In 1988, Sri Chinmoy found a new focus for his weightlifting: honouring his fellow man for their dedicated service to mankind. The 'Lifting Up the World With a Oneness Heart' award was founded, the centrepiece of which Sri Chinmoy would lift the recipient overhead with one arm as they stood on a specially constructed overhead platform. It all began with a suggestion from 5-time Mr Universe Mahasamrat Bill Pearl, who knew that while weightlifters and bodybuilders can appreciate immense lifts with metal plates, these lifts rarely capture the imagination of the general public. He advised Sri Chinmoy to lift people and objects instead.
On June 26th 1988, Sri Chinmoy unveiled his first machines capable of holding people. After a few preliminary lifts, he invited Mahasamrat to ascend the platform on the overhead lift. Together with the apparatus, Mahasamrat's weight was 229 pounds; Sri Chinmoy's was 151. He lifted Mahasamrat to full-arm extension and thus ushered forth a most remarkable odyssey in which over 8,000 individuals from Prime Ministers to schoolchildren were lifted.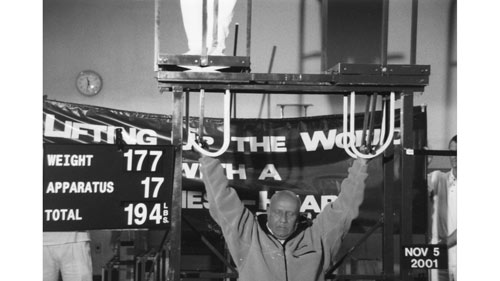 The initial apparatus included a pole for the recipients to hold on to as they were hoisted upwards; later apparatuses were modified to include a support rail. Many of the recipients would later testify to being lifted up not only in body, but in spirit. In addition, Sri Chinmoy would often compose songs appreciating the inspiring qualities of that person, and sometimes even set the recipient's own inspiring words to music: these songs were then sung by a choral group of Sri Chinmoy's students, and never failed to bring the recipient's heart to the fore.
This award was to carry on for almost 20 years, in which time Sri Chinmoy had lifted up over 8,000 people – presidents, prime ministers, Nobel laureates, spiritual and religious leaders, scientists, celebrities and other people of note, but also the people who form the backbone of society – for example, teachers and professors, police and fire officers, nurses and social workers – and pilots. For example in 2003, to mark the centenary of the Wright brothers' epic first flight, Sri Chinmoy bestowed this honour on 112 pilots assembled at Boeing Field, Washington – the most people he had ever lifted in one day. During the event he was named an honorary member of the Civil Air Patrol. "It was something I will remember and cherish for the rest of my life", said Leonard Dorcas, a former pilot with Northwest Airlines with 23,000 logged hours of flying time, who was lifted on the day. "Sri Chinmoy is a very impressive man to be able to do the things he does, and with such dedication to the world. I admire him very much."
Motivation
Sri Chinmoy writes that:
"I am a truth-seeker and a God-lover. I pray and meditate so that I can establish my oneness with each and every human being in the whole world. I am lifting up the individuals who have contributed much to the world at large. They have inspired countless people on earth, and I feel it is obligatory on my part to show them some appreciation from the depth of my heart."1
Sri Chinmoy lifted people from all walks of life. Rabbi Marc Gellman wrote:
On this day I remember the miraculous day of May 23, 2001, when Sri Chinmoy lifted me, my pal Father Tom Hartman, and a platform up into the air. Together—with the platform—we weighed more than 500 pounds (I had a very heavy cell phone in my pocket!). Sri Chinmoy took a seat underneath us and pushed up. With his two 70-year-old arms, he lifted us up into the air…
…I think Sri Chinmoy was a ray of light from that crack. I am sad to see him go, but I know his journey continues and his strength endures in all those he lifted up into the air—either because he was really strong or because he knew the miraculous source of all true strength.2
Photos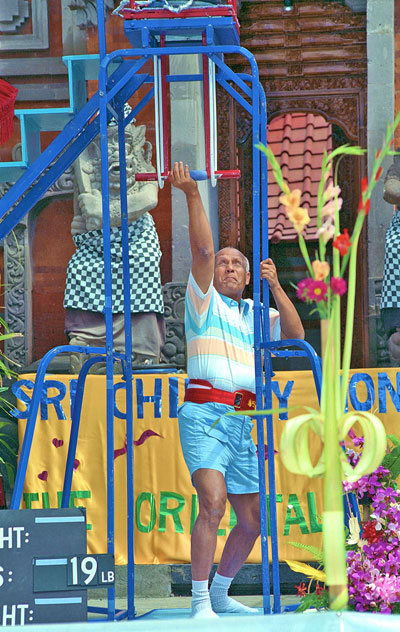 An early version of the Lifting up the world apparatus. In this version, Sri Chinmoy lifted from a standing position. The seated version was developed so the person would be closer to the ground and also so Sri Chinmoy didn't have to bear the weight on his bad knees.

Videos of Lifting up the World with a Oneness-Heart
Further Reading
Footnotes